Learn all about PCOS (Polycystic Ovary Syndrome) with your hosts Tallene & Sirak! We are a husband and wife duo who specialize as a PCOS dietitian & a PCOS personal trainer to help break down the root causes of PCOS and provide you the best information on PCOS treatments, supplements, and much more! www.PCOSweightloss.org
Episodes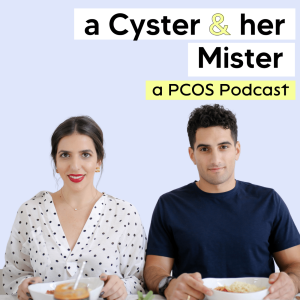 Monday Oct 31, 2022
Monday Oct 31, 2022
Many women with PCOS experience hirsutism, which is excess facial and body hair growth. A lesser-discussed symptom of PCOS is hair thinning and hair loss, otherwise known as female pattern hair loss. 
Hair loss can be an upsetting and unsettling experience for anyone, regardless of gender. But it doesn't have to be all doom and gloom!
Let's explore the reasons why PCOS hair loss happens and our 15 tips to grow your hair back with PCOS!
See how Stephanie reversed her hair loss with PCOS!
Join us in The Cysterhood, a community of women learning how to manage PCOS & lose weight, Gluten and Dairy Free!
LET'S CONNECT:
While Tallene is a Registered Dietitian and Sirak a Personal Trainer, this podcast provides general information about PCOS. It is not meant to serve as fitness, nutrition or medical advice related to your individual needs. If you have questions, please talk to a medical professional. For our full privacy policy, please click on the following link: (bit.ly/PCOSPrivacyPolicy)
Links included in this description may be affiliate links. If you purchase a product or service with the links that we provide, we may receive a small commission. There is no additional charge to you! Thank you for supporting our channel so we can continue to provide you with free content each week!